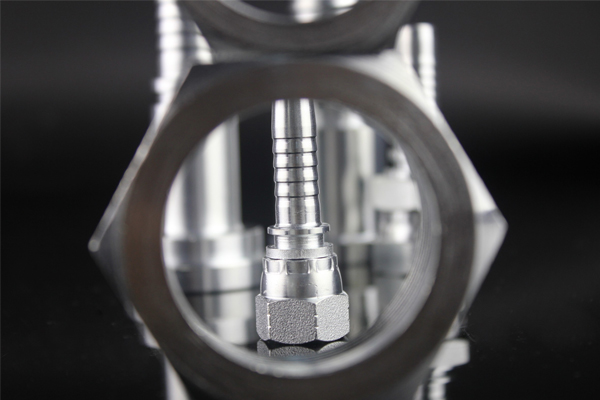 30212 fittings are metric female flat seal for spiral hoses and steel wire braided hoses such as R1AT, R2AT, 4SH, 4SP, etc. Fittings are coated with zinc plated or chrome plated before package. YH is providing good quality fittings, reasonable prices and better services. We can design fittings as customers' requirements.
Details
---
Part no.: 30212(Metric Female Flat Seal For Spiral Hose)
Thread sizes: M22, M30, M36, M39, M42, M45, M52, M64, or other sizes required
Logo: YH or any other customer required logo
Material: 45 carbon steel, mild steel, stainless steel, etc.
OEM service: available for samples or drawings provided
Technical Data Table
---
Drawing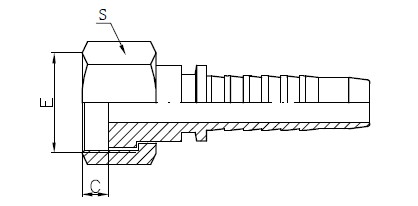 代号

PART NO.

螺纹E

THREAD E

胶管 HOSE BORE
尺  寸   DIMENSIONS
公称内径DN
标 号 DASH
C
S
30212-22-08
M22X1.5
12
08
10
27
30212-30-12
M30X1.5
20
12
11.5
36
30112-36-14
M36X2
22
14
13
41
30112-36-16
M36X2
25
16
13
41
30212-39-16
M39X2
25
16
13
46
30212-42-16
M42X2
25
16
15
50
30212-45-20
M45X2
32
20
15
55
30212-52-20
M52X2
32
20
17
60
30212-52-24
M52X2
38
24
17
60
30212-64-32
M64X2
50
32
23
75
1) FERRULE
FERRULE for SAE100R1AT/EN 853 1SN HOSE
FERRULE for SAE100R1A EN 853 1ST HOSE
FERRULE for SAE100R2AT/DIN20022 2SN HOSE
FERRULE for SAE100R2A/EN853 2SN HOSE
FERRULE for SAE100R1AT-R2AT,EN853 1SN-2SN and EN 857 2SC
FERRULE for 4SP, 4SH/10-16, R12/06-16 HOSE
FERRULE for 4SH, R12/32 HOSE
2) SWAGED METRIC FITTINGS
Metric Flat Seal Fittings Metric Multiseal Fittings
Metric 60°Cone Seal Fittings Metric 74°Cone Seal Fittings
Metric 24°Cone O-RING Seal L..T. Fittings Metric 24°Cone O-RING Seal H.T. Fittings
Metric Standpipe Straight Fittings JIS Metric 60°Cone Seal Fittings
3) SWAGED BRITISH FITTINGS
BSP O-RING Seal Fittings BSP Flat Seal Fittings
BSP Multiseal Fittings BSP 60°Cone Seal Fittings
BSPT Fittings JIS BSP 60°Cone Seal Fittings
4) SWAGED AMERICAN FITTINGS
SAE O-RING Seal Fittings ORFS Flat Seal Fittings
NPSM 60°Cone Seal Fittings JIC 74°Cone Seal Fittings
NPT Fittings SAE Flange L.T. Fittings SAE Flange H.T. Fittings
5) STAPLELOK FITTINGS
BANJO DOUBLE CONNECTION INTERLOCK HOSE FITTINGS
6) METRIC ADAPTERS
Metric Thread O-RING Face Seal Adapters
Metric Thread Bite Type Tube Adapters
Metric Thread 74°Cone Flared Tube Adapters
JIS Metric Thread 60°Cone Adapters
7) BRITISH ADAPTERS
BSP Thread 60°Cone Adapters
JIS BSP Thread 60°Cone Adapters
BSPT Thread Adapters
8) AMERICAN ADAPTERS
ORFS ADAPTERS JIC 74°Cone Flared Tube Adapters
NPT Thread Adapters
9) OTHER ADAPTERS
---