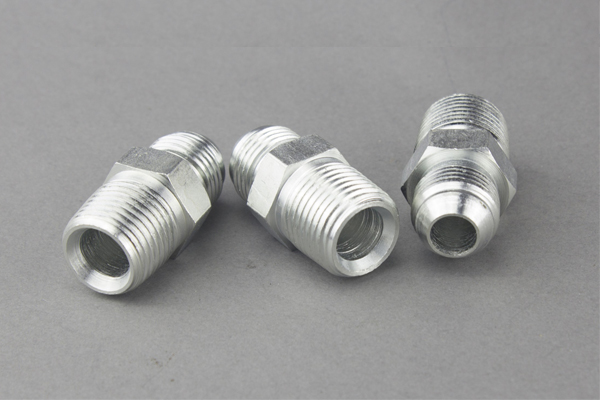 1B series instead of BSP male 60 degrees seat bonded seal threads have sizes from 1/8'' to 2'' that are popularly producing items in YH Hydraulic. 1B adapter fittings come in material of 45 carbon steel mostly. But other materials like stainless steel or brass are acceptable in our factory. These adapter fittings are finished with zinc plated or chrome plated.
Details
---
Part no.: 1B(BSP Male 60 Degrees Seat Bonded Seal)
Type: Straight(1B); 45 degrees Elbow(1B4); 90 degrees(1B9)
Color: White; Yellow; Silver
Sizes: showed on technical data table are popular items; others if specifications provided are available.
Stock: most items are kept as stock products for quick delivery time.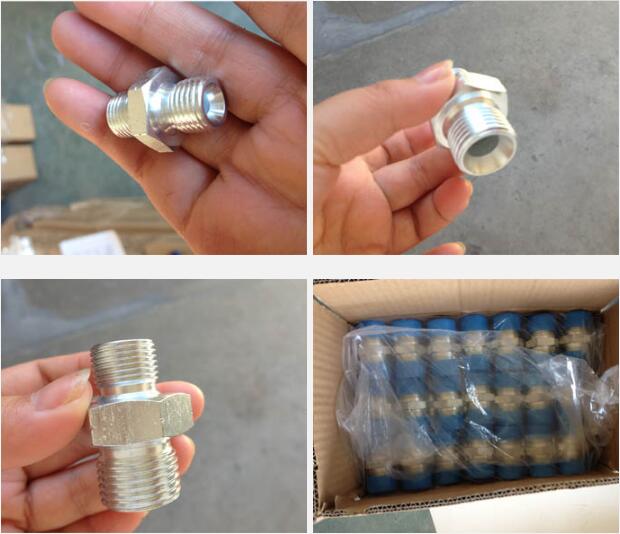 Technical Data Table
---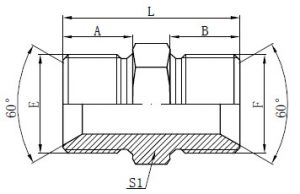 代号

PART NO.

螺纹THREAD
尺寸 DIMENSIONS
 E
 F
A
B
S1
L
1B-02
G1/8"X28
G1/8"X28
10
10
14
26
1B-02-04
G1/8"X28
G1/4"X19
10
12
19
28
1B-02-06
G1/8"X28
G3/8"X19
10
13.5
22
31.5
1B-02-08
G1/8"X28
G1/2"X14
10
16
27
34
1B-04
G1/4"X19
G1/4"X19
12
12
19
30
1B-04-06
G1/4"X19
G3/8"X19
12
13.5
22
33
1B-04-08
G1/4"X19
G1/2"X14
12
16
27
36
1B-04-10
G1/4"X19
G5/8"X14
12
17.5
30
38.5
1B-06
G3/8"X19
G3/8"X19
13.5
13.5
22
35
1B-06-08
G3/8"X19
G1/2"X14
13.5
16
27
37.5
1B-06-10
G3/8"X19
G5/8"X14
13.5
17.5
30
40
1B-06-12
G3/8"X19
G3/4"X14
13.5
18.5
32
42
1B-08
G1/2"X14
G1/2"X14
16
16
27
40
1B-08-10
G1/2"X14
G5/8"X14
16
17.5
30
42.5
1B-08-12
G1/2"X14
G3/4"X14
16
18.5
32
44
1B-10
G5/8"X14
G5/8"X14
17.5
17.5
30
44
1B-10-12
G5/8"X14
G3/4"X14
17.5
18.5
32
46
1B-10-16
G5/8"X14
G1"X11
17.5
20.5
41
50
1B-12
G3/4"X14
G3/4"X14
18.5
18.5
32
47
1B-12-16
G3/4"X14
G1"X11
18.5
20.5
41
49
1B-12-20
G3/4"X14
G1.1/4"X11
18.5
20.5
50
56
1B-16
G1"X11
G1"X11
20.5
20.5
41
53
1B-16-20
G1"X11
G1.1/4"X11
20.5
20.5
50
57
1B-16-24
G1"X11
G1.1/2"X11
20.5
23
55
60
1B-20
G1.1/4"X11
G1.1/4"X11
20.5
20.5
50
58
1B-20-24
G1.1/4"X11
G1.1/2"X11
20.5
23
55
61
1B-24
G1.1/2"X11
G1.1/2"X11
23
23
55
63
1B-24-32
G1.1/2"X11
G2"X11
23
25.5
70
66
1B-32
G2"X11
G2"X11
25.5
25.5
70
69