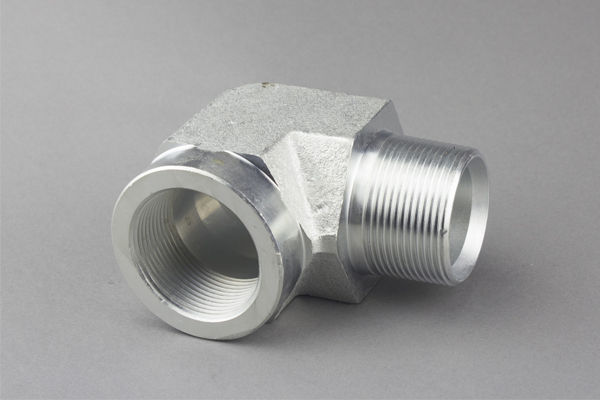 5N9 fittings are 90 degrees elbow NPT male to NPT female thread types. NPT threads are designed with a 60 degrees thread angle, and are used for joining and sealing pipe to fittings in low pressure air or liquids and also mechanical fields. 5N9 fittings are produced with Eaton production standard which is famous in the world.
Details
---
Part no.: 5N9(90°NPT Male to NPT Female)
Casting method: forged(precision investment casting and CNC precisely machined)
OEM service: available on request
Body material: carbon steel; stainless steel; other material available
Application: oil, mining, agriculture, food, chemistry, and other industrial field.
Technical Data Table
---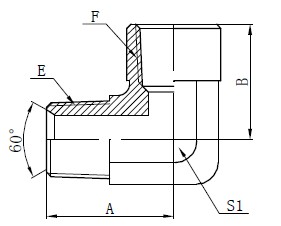 代号

PART NO.

螺纹THREAD
尺寸 DIMENSIONS
 E
 F
A
B
S1
5N9-02
Z1/8"X27
Z1/8"X27
30
17.8
17
5N9-04-02
Z1/4"X18
Z1/8"X27
30
16.8
17
5N9-04
Z1/4"X18
Z1/4"X18
33
22.4
19
5N9-04-06
Z1/4"X18
Z3/8"X18
37
25
22
5N9-06
Z3/8"X18
Z3/8"X18
37
25
22
5N9-08
Z1/2"X14
Z1/2"X14
43
31.2
27
5N9-12-08
Z3/4"X14
Z1/2"X14
43
31.2
27
5N9-12
Z3/4"X14
Z3/4"X14
52
34.5
33
5N9-16
Z1"X11.5
Z1"X11.5
59
41.1
44
5N9-20
Z1.1/4"X11.5
Z1.1/4"X11.5
61
43.2
50
5N9-24
Z1.1/2"X11.5
Z1.1/2"X11.5
65
52.8
65
5N9-32
Z2"X11.5
Z2"X11.5
65
62
65
The simple info of the JIC NPT SAE hydraulic fittings
Straights:
| | |
| --- | --- |
| 1.Male O-Ring Boss to Female Pipe NPTF | 4.Male JIC 37° Flare on Run to Male JIC 37° |
| 2.Male O-Ring Boss to Female Pipe Swivel NPTF | 5.Male JIC 37° Flare to Female JIC 37° Flare |
| 3.Male JIC 37° Flare on Run to Female JIC 37° | 6.O-Rings for Straight Thread Boss Fittings |
45°or90°elbows:
| | |
| --- | --- |
| 1.Female JIC 37° Flare Swivel to Male Pipe NPTF – 90° | 4.Male Pipe NPTF to Female Pipe NPTF – Brass – 90° |
| 2.Male JIC 37° Flare to Male Pipe NPTF – 45° | 5.Male JIC 37° Flare to Female JIC 37° Flare Swivel – 45° |
| 3.Male O-Ring Boss to Male JIC 37° Flare – 90° | 6.Male SAE 45° Flare to Male Pipe NPTF – Brass – 45° |
Tees,cross,caps and plugs
| | |
| --- | --- |
| 1.Female JIC 37° Flare Cap | 4.Male JIC 37° Flare on Run to Male O-Ring Boss – Tee |
| 2.Male JIC 37° Flare Plug | 5.Male JIC 37° Flare – Tee |
| 3.Male JIC 37° Flare on Run to Male Pipe NPTF – Tee | 6.Tube Sleeve Nut |
BSP METRIC JIS DIN hydraulic fittings
The simple info of the BSP METRIC JIS DIN hydraulic fittings
Straights:
| | |
| --- | --- |
| 1.Male British Standard Pipe Parallel to Female Pipe | 4.O-Rings for DIN Light Series |
| 2.Female British Standard Pipe Parallel to Female NPTF | 5.Female British Standard Pipe Parallel Swivel |
| 3.Male Metric O-Ring Plug | 6.Male Metric with O-Ring to Male JIC 37° Flare |
45°or90°elbows:
1.Male Metric with O-Ring to Male JIC 37° Flare – 90°
2.Male British Standard Pipe Parallel with O-Ring to Male Flat-Face O-Ring – 45°
3.Male British Standard Pipe Tapered Thread toMale JIC 37° Flare – 90°
Tees,cross,caps and plugs
1.Male Komatsu to Female Komatsu to Male Komatsu – Tee
2.Female DIN 24° Cone – Light Series Cap
3Male British Standard Pipe Parallel Plug
Products details
---
| | |
| --- | --- |
| Material | Stainless steel,Carbon steel ,etc |
| Process | CNC Machining |
| Maching Equipment | CNC Center,CNC mashines,turning machines, Drilling machines,Milling mashines,Grinding machines |
| Measuring Tools | CMM,Vernier caliper,depth caliper,Micrometer,Pin gauge,Thread gauge,Height gauge |
| Surface Treatment | Painting,plating |
| QC system | 100% inspection before shipment |
| Package | OPP,or Plastic box,carton,plywood packing or as customers' requiements |
| Payment terms | TT,L/C,D/P,D/A |
| Delivery time | 10-30days(according to total quantity) |