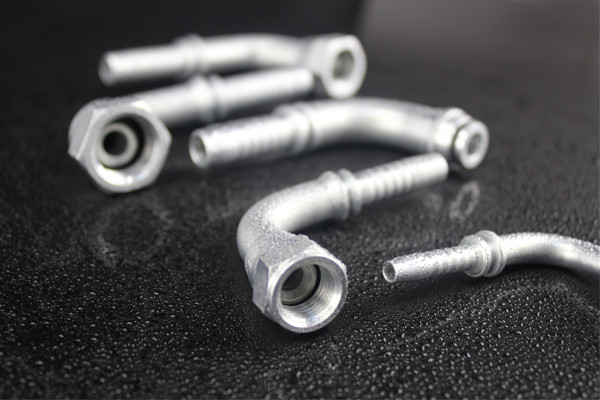 22641 are popular fitting types manufactured in YH factory and accepted around the world. 22641 fittings are with 45°BSP female 30°cone thread type. We offer complete sizes to meet most machine connection demands. We not only provide quality products with reasonable prices, but also nice service. Please feel no hesitate to advise us with any comments or suggestions.
Details

---
Part no.: 22641(45°BSP Female 60°Cone)
Related items: 22642(fittings for one, two or four wire hoses); 22611(straight type); 22691(90 degrees elbow)
Stock condition: we have kept most items as stock products so that it can shorten delivery time
Samples: available for less than 5pcs
Delivery time: less than 5 days for stock items; less than a month for an order big or small.
Delivery port: Ningbo; Shanghai; Guangzhou
Technical Data Table

---

代号

PART NO.

螺纹E

THREAD E

胶管 HOSE BORE
尺  寸   DIMENSIONS
公称内径DN
标 号 DASH
C
S
H
22641-04-04
G1/4"X19
6
04
5.5
19
20.2
22641-06-05
G3/8"X19
8
05
6.5
22
22
22641-06-06
G3/8"X19
10
06
6.5
22
22.6
22641-08-08
G1/2"X14
12
08
8
27
26.1
22641-10-10
G5/8"X14
16
10
10.5
30
27.8
22641-12-12
G3/4"X14
20
12
11.5
32
31.8
22641-16-16
G1"X11
25
16
11.5
41
34.2
22641-20-20
G1.1/4"X11
32
20
12
50
40
22641-24-24
G1.1/2"X11
40
24
13
55
44.8
22641-32-32
G2"X11
50
32
16
70
52.7
Our Services

---
1. We have years of manufacturing experience.
2. Customers cooperate with us benefit from our professional team and good quality products.
3. We can supply all kinds of hydraulic fittings.
4. Just send us your 2D/3D drawings or technical reference,we can customize for you.
5. We can supply hydraulic fittings with international standard,ISO,BSP,NPT,etc
FAQ
---
Buying Guide
Our main products are Ferrule, Hydraulic fittings, Hydraulic hose fittings, Hydraulic adapter, Hydrualic connections,
hydraulic 3-piece suit, union tee, union cross, etc
1) Ferrule, matched with many kinds of pipes such as SAE, DIN, EN, GB etc
2) Metric Fitting
Flat Seal Fitting, Mulit-seal fitting, spherical seal fitting, 60° Cone seal fitting, 74° cone seal fitting, 24°cone O-ring L.T. Fitting, 24°cone O-ring H.T. Fitting, JIS 60° Cone Seal Fitting, Standpipe Fitting, Japan Metric Fitting etc;
3) British Pipe Adapter
JIS BSP 60° Cone seal Adapter, BSPT Adapter, BSP multiseal adapter, BSP flat Seal Adapter, BSP O-ring Seal Adapter;
4) Americal Pipe Adaptor
SAE Code 62 Flange, SAE Code 61 Flange, NPT Adpator, JIC 74°Cone Seal Adaptor, NPSM 60°Cone Seal Adaptor, ORFS Flat Seal Adaptor, SAE O-ring Seal Adaptor
5) Banjo Adaptor
MetricBanjo Adaptor, BSP Banjo Adaptor
6) Staplelok Adaptor
7) Double Ended Adaptor
8) Metric Transition Adaptor
9) British Transition Adaptor
10)American Transition Adaptor
11)Other Adaptor
Note: Special dimension and other standard fitting can be customized, OEM/ODM is welcomed.