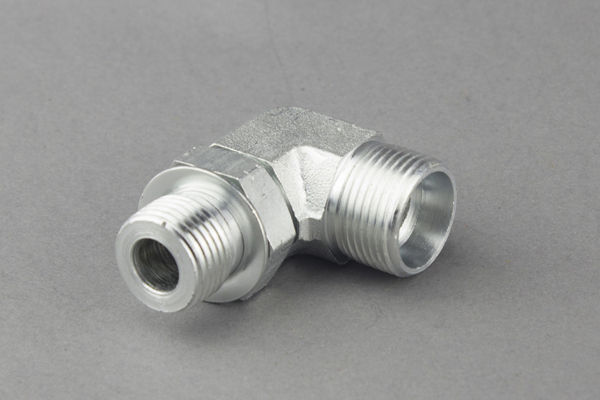 Part no. 1CH9-OG is 90°metric male 24°light type adjustable stud adapters. It has many sizes showed in technical data. And for other sizes, YH welcome customers to contact with our sales. 1CH9-OG is finished with relevant sizes of Viton that why "OG" put after each part no. Adapters are coated before package with zinc, chrome, nickel, etc.
Details
---
Part no.: 1CH9-OG(90 degrees metric male 24 degrees L.T. adjustable stud)
Production process: material preparation; instrument lathe processing; CNC machine making; remove burrs and impurities; coating; checking dimensions and quantities; packing; delivering order
Feature: high precision; high degree of smooth finish; qualified tolerance
Advantage: good quality; competitive price; nice service
Technical Data Table
---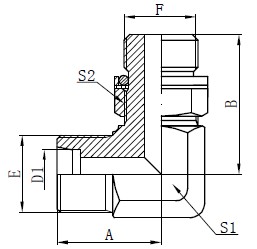 代号

PART NO.

螺纹 THREAD
管子外径
尺寸 DIMENSIONS
 E
F
 TUBE O.D. D1
A
B
S1
S2
1CH9-12-10OG
M12X1.5
M10X1
6
27
26.5
14
14
1CH9-14-12OG
M14X1.5
M12X1.5
8
27
32
14
17
1CH9-16-14OG
M16X1.5
M14X1.5
10
29
34
17
19
1CH9-18-16OG
M18X1.5
M16X1.5
12
32
36
19
22
1CH9-22-18OG
M22X1.5
M18X1.5
15
37
39.5
22
24
1CH9-26-22OG
M26X1.5
M22X1.5
18
43
43.5
27
27
1CH9-30-27OG
M30X2
M27X2
25
43
50
27
32
1CH9-36-33OG
M36X2
M33X2
28
49
54
33
41
Packing & Delivery
Packing Details : Before packaging to the carton, each product will be covered by plastic cover.
And we will use wooden box to hold cartons or packed into the pallet.
Of course, we also allow to do customized package.
Delivery Details : For the sample, we need 3 wors day to prepare.
For the big order, the delivery time depends on the quantity; for 1 20FT, maybe 45 works day.