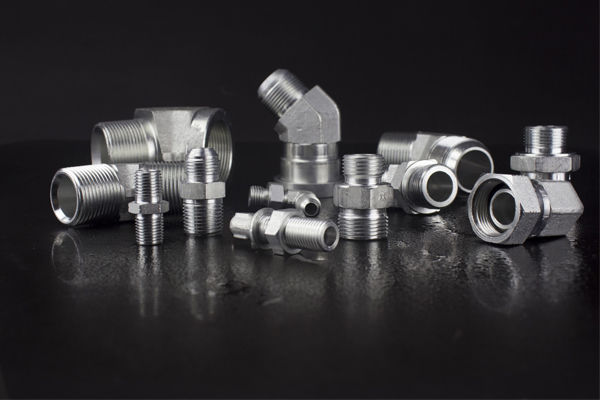 1SG9-OG type fittings are 90 degrees elbow JIS GAS male 60 degrees cone to BSP male o-ring adjustable stud. Sizes from 1/4'' to 1.1/2'' are manufactured in YH Hydraulic commonly. The details are showed on technical data table for your reference. We welcome customers to offer us some suggestions or comments that can improve our ability in production and in service.
Details
---
Part no.: 1SG9-OG(90°JIS GAS Male 60°Cone to BSP Male O-ring Adjustable Stud)
Material: Carbon Steel(Qualified); Stainless Steel and brass are acceptable
Surface treatment: Zinc-plated(white or yellow); chrome plated; nickel plated
OEM service: available for producing as samples; designing
Samples service: less than 3pcs total is free of charge for testing products quality.
Technical Data Table
---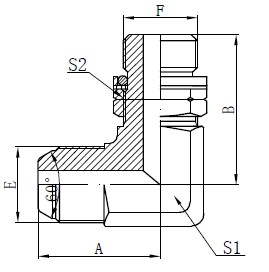 代号

PART NO.

螺纹THREAD
尺寸 DIMENSIONS
 E
 F
A
B
S1
S2
1SG9-04OG
G1/4"X19
G1/4"X19
27
31.3
14
19
1SG9-06OG
G3/8"X19
G3/8"X19
29
35.8
17
22
1SG9-08OG
G1/2"X14
G1/2"X14
37
43.2
22
27
1SG9-12OG
G3/4"X14
G3/4"X14
43
49.3
27
32
1SG9-16OG
G1"X11
G1"X11
49
53
33
41
1SG9-20OG
G1.1/4"X11
G1.1/4"X11
57
59
44
50
1SG9-24OG
G1.1/2"X11
G1.1/2"X11
59
65
50
55
Product Overviews
---
1)FERRULE hydraulic hose fittings
FERRULE for SAE100R1AT/EN 853 1SN HOSE
FERRULE for SAE100R2A/EN853 2SN HOSE
FERRULE for SAE100R1AT-R2AT,EN853 1SN-2SN and EN 857 2SC
FERRULE for 4SP, 4SH/10-16, R12/06-16 HOSE
FERRULE for 4SH, R12/32 HOSE
2)CRIMPED METRIC hydraulic hose fittings
Metric Flat Seal Fittings Metric Multiseal Fittings
Metric 60°Cone Seal Fittings Metric 74°Cone Seal Fittings
Metric 24°Cone O-RING Seal L..T. Fittings Metric 24°Cone O-RING Seal H.T. Fittings
Metric Standpipe Straight Fittings JIS Metric 60°Cone Seal Fittings
3)CRIMPED BRITISH hydraulic hose fittings
BSP O-RING Seal Fittings BSP Flat Seal Fittings
BSP Multiseal Fittings BSP 60°Cone Seal Fittings
BSPT Fittings JIS BSP 60°Cone Seal Fittings
4)CRIMPED AMERICAN hydraulic hose fittings
SAE O-RING Seal Fittings ORFS Flat Seal Fittings
NPSM 60°Cone Seal Fittings JIC 74°Cone Seal Fittings
NPT Fittings SAE Flange L.T. Fittings SAE Flange H.T. Fittings
5)STAPLELOK hydraulic hose fittings
Banjo double connection interlock hose fittings
6)ADAPTERS hydraulic hose fittings
METRIC THREAD O-RING SEAL FITTINGS
METRIC THREAD BITE TYPE TUBE FITTINGS
METRIC THREAD 74° CONE THREAD TUBE FITTINGS
JAPANESE METRIC THREAD 60° CONE FITTINGS
JAPANESE BSP THREAD 60° CONE FITTINGS
BSP THREAD 60° CONE FITTINGS
BSPT THREAD FITTINGS
NPT THREAD FITTINGS
JIC 74° CONE FLARED TUBE FITTINGS
ORFS FITTINGS
FAQ
---
1. How can you ensure the quality of your hose fittings?
We will arrange hose fittings sample confirmation before production. During the hose fittings production, we have professional QC staffs control the quality and manufacture in accordance to the confirmed sample of hose fittings . We will also send you our material report and quality report with delivery.
2. Do you offer OEM service and can you produce hose fittings as our drawings?
Yes. We offer hose fittings OEM service. We accept custom design and we have a professional design team who can design hose fittings based on your requirements. And we can develop new hose fittings according to your samples or drawings
3. Can we design the packaging for our hose fittings order?
Yes, you can indicate the dimensions of the carton and pallet.
4. Do you offer free samples of the hose fittings?
We can provide free samples of hose fittings. and you should pay the freight. After you place an order, we will give back the freight
5. What's your delivery time for my hose fittings order?
Generally, we will arrange your hose fittings shipment with 25 days after receiving the deposit. If urgent, we can also meet your requirement