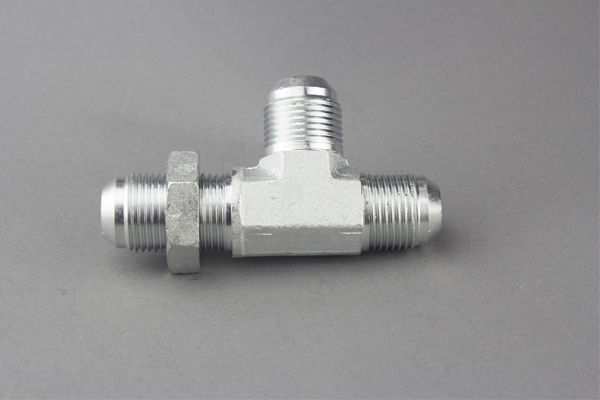 AJOJ-OG is JIC male 74 degrees cone with SAE o-ring boss branch tee. AJOJ-OG series have complete sizes showed on technical data table which are welcome by customers mostly. YH also involved in other thread types and sizes producing. We welcome you to send us descriptions or pictures for confirming in advance.
Details
---
SAE-O-ring-Boss-AdapterPart no.: AJOJ-OG(JIC male 74 degrees cone/ SAE o-ring boss branch tee)
Types: Straight for two ends; Elbow for two ends; Three ends types
Logo: YH; other customer required logo on products are acceptable
Custom-orientated: YH can provide OEM service with customers' drawings or samples presented
After-sales: to confirm good quality provided, we give after sales service to customers.
Technical Data Table
---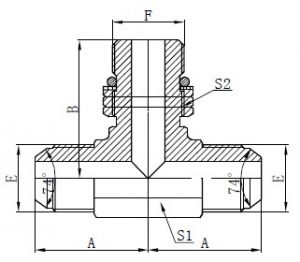 代号

PART NO.

螺纹THREAD
尺寸 DIMENSIONS
 E/G
 F
A
B
S1
S2
AJOJ-04OG
U7/16"X20
U7/16"X20
24.5
27.2
11
17
AJOJ-05OG
U1/2"X20
U1/2"X20
25
29
14
17
AJOJ-05-04-05OG
U1/2"X20
U7/16"X20
25
30
14
17
AJOJ-06OG
U9/16"X18
U9/16"X18
25
31.8
14
19
AJOJ-06-04-06OG
U9/16"X18
U7/16"X20
25
30
14
17
AJOJ-06-05-06OG
U9/16"X18
U1/2"X20
25
30
14
17
AJOJ-08OG
U3/4"X16
U3/4"X16
27.5
36.8
19
24
AJOJ-08-06-08OG
U3/4"X16
U9/16"X18
27.5
33.5
19
19
AJOJ-10OG
U7/8"X14
U7/8"X14
30
44
22
27
AJOJ-10-08-10OG
U7/8"X14
U3/4"X16
30
40
22
24
AJOJ-12OG
U1.1/16"X12
U1.1/16"X12
35
51
24
32
AJOJ-12-08-12OG
U1.1/16"X12
U3/4"X16
35
44
24
24
AJOJ-12-10-12OG
U1.1/16"X12
U7/8"X14
35
49
24
27
AJOJ-16OG
U1.5/16"X12
U1.5/16"X12
43
54.5
33
41
AJOJ-20-16-20OG
U1.5/8"X12
U1.5/16"X12
59
59.5
44
41
AJOJ-20OG
U1.5/8"X12
U1.5/8"X12
59
59
44
50