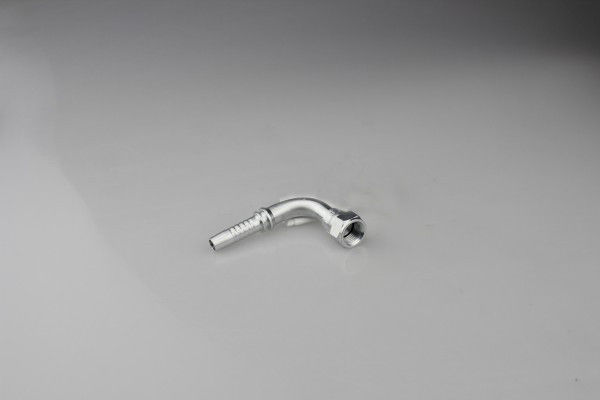 27891 fittings are 90 degrees SAE female 90 degrees cone seat types. Sizes of 27891 fittings are from 1/4'' to 3/4'' which are daily manufactured in YH Hydraulic. Our production includes a wide range of thread fittings such as metric, BSP, JIC, NPT, ORFS, etc. Also we can provide OEM service with samples, drawings or requirements provided.
Details

---
Part no.: 27891(90°SAE Female 90°Cone Seat)
MOQ: require 200PCS for each item
Prices: prices quoted are in line with quality presented, material and requirements provided.
Package: put in order in cartons covered with plastic, then put into boxes.
Delivery time: Less than 50 days for an order big or small
Technical Data Table
---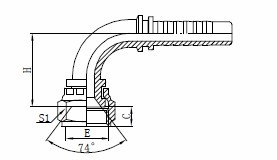 代号

PART NO.

螺纹E

THREAD E

胶管

HOSE BORE

尺  寸

DIMENSIONS

公称内径DN
标 号 DASH
C
S1
H
27891-04-04
7/16"X20
6
04
8.5
17
30.5
27891-05-05
1/2"X20
8
05
9.5
17
34.2
27891-06-06
5/8"X18
10
06
11.5
22
36.5
27891-08-08
3/4"X16
12
08
11
24
44.2
27891-10-10
7/8"X14
16
10
11
27
50.5
27891-12-12
1.1/16"X12
20
12
13.5
32
57.5
Company Information
---
1.Ningbo YH Hydraulic Machinery Factory was set up in a beautiful city, Ningbo, which is famous for Beilun port. YH Hydraulic is a specialized factory that produces and supplies braided rubber hoses, hose fittings, hose ferrules, high pressure hose assemblies, crimping machines, etc. As a manufacturer, YH insists on pursuing better quality with lower costing. So we control materials which should be bought from official steel companies and of standard and best quality. And we have carried out an integrated production system which is based on quality focus.
2.Our company has a team of technicians who have been professionally trained in Japan.
3.We specialize in the manufacture of hydraulic fittings, especially stainless steel fittings.
And we also make different kinds of metal parts .
4.We mainly export products to Japan, the USA and European countries. We also have a
range of both foreign and domestic buyers within China.
5.Products can be customized to suit the demand, and low MOQ is ok.