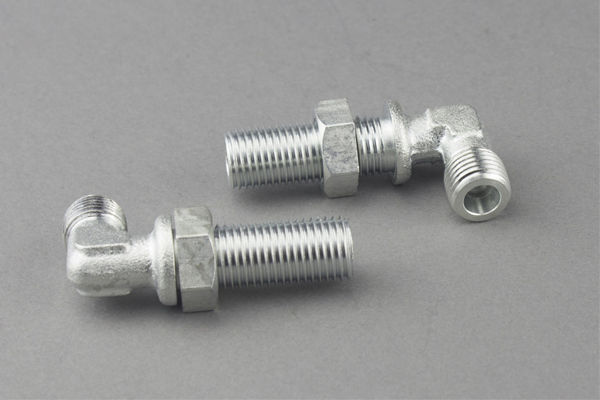 6J9 adapter fittings are 90°JIC male 74°cone bulkhead types. Sizes from 04 to 20 are manufactured and supplied daily in YH Hydraulic. We can provide a full design service from either samples or drawings. We ensure quality, performance and precision of adapter fittings. So we have built an enviable reputation for our quality products. We welcome you to contact us for any details.
Details
---
Part no.: 6J9(90°JIC Male 74°Cone Bulkhead)
Colors: white(white zinc plated); yellow(yellow zinc plated); silver(chrome plated)
Sizes: from 04 to 20 are standard sizes manufactured in YH Hydraulic.
Advantages: competitive prices; reliable quality; strong supply ability; no leaking; etc.
Currency: RMB, USD, EURO, others
Delivery port: Ningbo, Shanghai, Guangzhou, others
Technical Data Table
---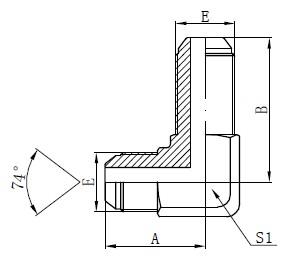 代号

PART NO.

螺纹
尺寸 DIMENSIONS
THREAD E
A
B
S1
6J9-04
U7/16"X20
29
40.4
14
6J9-06
U9/16"X18
29
46
14
6J9-08
U3/4"X16
33
53.5
19
6J9-10
U7/8"X14
37
60.7
22
6J9-12
U1.1/16"X12
43
67.8
27
6J9-16
U1.5/16"X12
52
71
33
6J9-20
U1.5/8"X12
59
79.2
44
备注:如需带锁母订货,请在代号后加"LN",如:6J9-08LN

Remark: In case if you are interested to order the adapter with lock nut, please insert suffix"LN"after our part no. for example 6J9-08LN.
Product List
---
1. Swaged Metric Fittings

Mertic Flat Seal Fittings
Metric Multiseal Fittings
Metric 60°Cone Seal Fittings
Metric 74°Cone Seal Fittings
Metric 24°Cone O-RING Seal L..T Fittings
Metric 24°Cone O-RING Seal H.T.Fittings
Metric Standpipe Straight Fittings
JIS Metric 60°Cone Seal Fitting
2. Swaged British Fittings
BSP O-RING Seal Fittings
BSP Flat Seal Fittings
BSP Multiseal Fittings
BSP 60°Cone Seal Fittings
BSPT Fittings
JIS BSP 60°Cone Seal Fittings
3. Swaged American Fittings
SAE O-RING Seal Fittings
ORFS Flat Seal Fittings
NPSM 60°Cone Seal Fittings
JIC 74°Cone Seal Fittings
NPT Fittings SAE Flange L.T. Fittiings
SAE Flange H.T.Fittings
4. Staplelok Fittings
Banjo Double connection
interlock Hose Fittings
5. Ferrule
FERRULE for SAE100R1AT/ EN 853 1SN HOSE
FERRULE for SAE100R1A EN 853 1ST HOSE
FERRULE for SAE100R2AT/DIN20022 2SN HOSE
FERRULE for SAE100R2A/EN 853 2SN HOSE
FERRULE for SAE100R1AT-R2AT,EN853 1SN-2SN and EN 857 2SC
FERRULE for 4SP,4SH/10-16,R12-06-16 HOSE
FERRULE for 4SH,R12/32 HOSE
6. Metric Adapters
Metric Thread O-RING Face Seal Adapters
Metric Thread Bite Type Tube Adapters
JIS Metric Thread 60°Cone Adapters
Metric Thread 74°Cone Flared Tube Adapters
7. British Adapters
BSP Thread 60°Cone Adapters
JIS BSP Thread 60°Cone Adapters
BSPT Thread Adapters
8. American Adapters
ORFS Adapters JIC 74°Cone Flared Tube Adapters
NPT Thread Adapters.