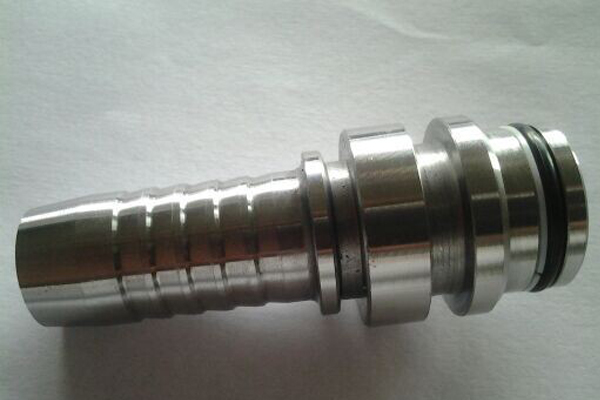 Staple lock hydraulic fittings 60011 are special for mining use. YH Hydraulic are offering a complete size range of these fittings. From below, details of these fittings can be understood well. Also, YH Hydraulic is offering a wide range of hydraulic fittings. For any fittings interests, please feel free to contact us.
Part no.: 60011(MT STAPLELOCK MALE)
60011 fittings are used in mine which sizes are standard and showed on technical data table.
Standard: Winner standard(which is same as Eaton standard)
Prices: prices for selling are included whole sets which are fitting body and both seals.
Color options: White, yellow or silver.
Fitting Drawings
---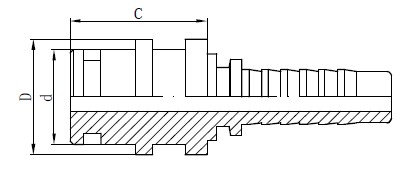 Technical Data Table
---
代号

PART NO.

胶管 HOSE BORE
尺  寸   DIMENSIONS
公称内径DN
标 号 DASH
d
D
C
60011-04-04
6
04
11
16
25
60011-05-05
8
05
13
18
26
60011-06-06
10
06
15
18
26
60011-08-06
10
06
18
22
26
60011-08-08
12
08
18
22
26
60011-10-10
16
10
20
25
30
60011-12-12
20
12
24
28
31
60011-16-14
22
14
30
36
31
60011-16-16
25
16
30
36
31
1. Hydraulic Hose Fittings:
1). BSP male, female fitting, straight & elbow, nuts, ferrules
2). JIC male, female fitting, straight & elbow, nuts, ferrules
3). NPT male, female fitting, straight & elbow, nuts, ferrules
4). ORFS male, female fitting, straight & elbow, nuts, ferrules
5). SAE male, female fitting, straight & elbow, nuts, ferrules
6.) Metric male, female fitting, straight & elbow, nuts, ferrules
7). Reusable fittings
8). One-piece fittings
2. Hydraulic Adaptors:
1). BSP male, female adaptor, 3 ways tee 4 ways tee
2). JIC male, female adaptor, 3 ways tee 4 ways tee
3). NPT male, female adaptor, 3 ways tee 4 ways tee
4). ORFS male, female fitting, straight & elbow, nuts, ferrules
5). SAE male, female fitting, straight & elbow, nuts, ferrules
6.) Metric male, female fitting, straight & elbow, nuts, ferrules
3.Quick Release Couplings:
European / American / Austraulia type with NPT, BSP thread etc
4.Stainless Steel (316SS / 304SS) & Brass & aluminum fittings:
NPT,JIC,BSP etc threaded male and female fittings & adaptors for low & high pressure