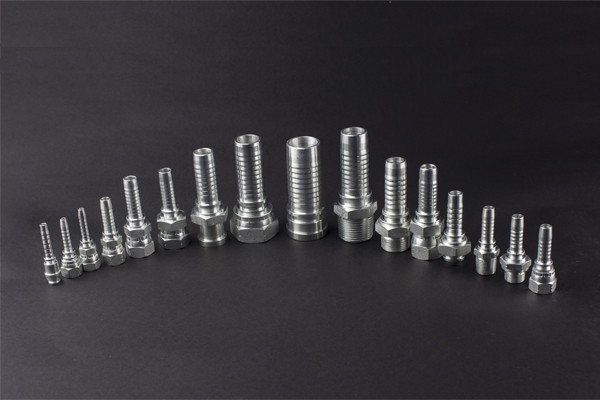 13011 series fittings are BSPT male thread. The British BSP connections includes two types o f threads, BSPP which are straight(or parallel) and BSPT which are tapered. The BSPT tapered male will mate with a BSPT tapered female(usually a port) and seals on the threads. The BSPP parallel male has a 30 degrees chamfered seat which seals with a BSPP swivel female on its 30 degrees cone seat.
Details

---
Part no.: 13011(BSPT Male)
Threads involved: Metric, JIS metric, BSP, BSPT, JIC, NPT, ORFS, etc.
Main fittings: metric fittings, American thread fittings, British thread fittings, elbow fittings; flange fittings; integral fittings
MOQ: 500pcs for re-produced items(04-08); 300pcs for re-produced items(10-32)
Samples: less than 5pcs is free of charge for free.
Note: you can download our brochure from the above click.
Technical Data Table

---

代号

PART NO.

螺纹E

THREAD E

胶管 HOSE BORE
尺  寸   DIMENSIONS
公称内径DN
标 号 DASH
C
S
13011-02-04
R1/8"X28
6
04
10
12
13011-04-04
R1/4"X19
6
04
14
17
13011-06-04
R3/8"X19
6
04
14
19
13011-06-05
R3/8"X19
8
05
14
19
13011-06-06
R3/8"X19
10
06
14
19
13011-08-06
R1/2"X14
10
06
19
22
13011-08-08
R1/2"X14
12
08
19
22
13011-12-12
R3/4"X14
20
12
19.5
30
13011-16-16
R1"X11
25
26
24
36
13011-20-20
R1.1/4"X11
32
20
25
46
13011-24-20
R1.1/2"X11
32
20
25
50
13011-24-24
R1.1/2"X11
40
34
25
50
13011-32-32
R2"X11
50
32
28
65
Advantage
---
1) our material is solid for hydraulic hose end fittings
2) Hydraulic coupling suface treatment is beautiful, galvanizing is Environmental protection zinc
3)Our package are standard export, use pallet, could protect thread hydraulic fitting