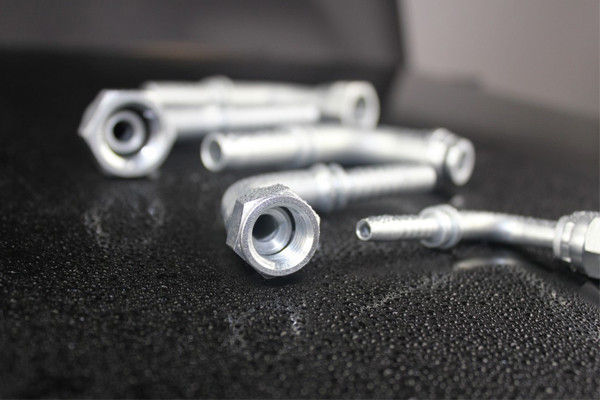 26742 fittings are 45 degrees JIC 37 degrees female swivel for 4SH or SAE 100R12 four wire hydraulic hoses. Also they can be used in SAE 100R1AR, SAE 100R2AT, SAE 100R16 or SAE 100R17 hoses. JIC fittings are widely accepted in hydraulic machines, mining machines, and other machines.
Details
---
Part no.: 26742(45 Degrees JIC Female 74 Degrees Cone Seat For Spiral Hose)
Sizes: from 1/2'' to 2'' are commonly manufactured in our factory(please check with technical data sheet); other sizes are also ok but please email to us.
Advantage: high precision manufactured; Required tolerance controlled; Well surface treatment
Application: widely used in hydraulic field after crimped with hoses and fittings
Package: fittings in order when packed in each carbon with plastic cover, then pack cartons in wooden boxes.
Technical Data Table
---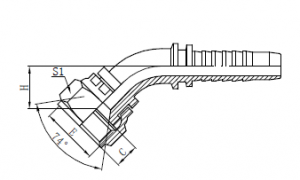 代号

PART NO.

螺纹E

THREAD E

胶管 HOSE BORE
尺  寸   DIMENSIONS
公称内径DN
标 号 DASH
C
S1
H
26742-08-08
3/4"X16
12
08
11
24
13.5
26742-10-10
7/8"X14
16
10
11
27
25.3
26742-12-12
1.1/16"X12
20
12
13.5
32
30
26742-16-16
1.5/16"X12
25
16
14.5
41
31.5
26742-20-20
1.5/8"X12
32
20
24.5
50
36.6
26742-24-24
1.7/8"X12
40
24
19.5
60
41.6
26742-32-32
2.1/2"X12
50
32
24.5
75
66