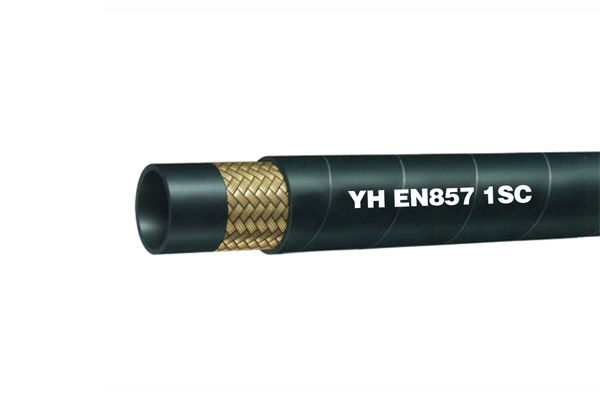 EN857 1SC is covered with environment resistant synthetic rubber and one high tensile steel braided. Hydraulic hoses are main products selling in YH factory. Specifications are designed according to EN857 standard. The brand is YH but we can offer customer brand hoses.
Details
---
Part no.: EN857 1SC
Reinforcement: One high tensile steel braid
Tube: Oil Resistant synthetic rubber
Cover: Environment resistant synthetic rubber
Continuous Service Temperature Range: -40°F/+212°F; -40 ℃/+100℃
Recommended Fluids: Mineral oils, vegetable and rape seed oils, glycol and polyglycol based oils, synthetic ester based oils, oils in aqueous emulsion, water.
Technical Data Table
名义直径

Nominal

Diameter

内径

Inside  diameter mm

钢丝层直径

Reinforcement

Diameter mm

外径

Outside diameter mm

工作压力working pressure MPa
试验压力

Proof pressure

MPa

Min

爆破压力burst pressure

MPa

最小弯曲

Min. bend

Radius

mm

Min

Min
Max
Min
Max
Min
Max
Max
Max
Max
6
1/4
6.1
6.9
9.6
10.8
13.5
22.5
6
1/4
6.1
8
5/16
7.7
8.5
10.9
12.1
14.5
21.5
8
5/16
7.7
10
3/8
9.3
10.1
12.7
14.5
16.9
18.0
10
3/8
9.3
12
1/2
12.3
13.5
15.9
18.1
20.4
16.0
12
1/2
12.3
16
5/8
15.5
16.7
19.8
21.0
23.0
13.0
16
5/8
15.5
19
3/4
18.6
19.8
23.2
24.4
26.7
10.5
19
3/4
18.6
25
1
25.0
26.4
30.7
31.9
34.9
8.8
25
1
25.0
Why Chhose Us
---
| | | |
| --- | --- | --- |
| Professional sales team | Reliable manufacturer | High technology machine |
| More than 5 years working experience and reply the inquiry within 12 hours. | More than 10 years manufacturing experience and building long term cooperation with customers. | Insuring offer good quality and fast delivery time. |
| | | |
| Payment safety | After-sale service | Test machine |
| Cooperation with ALIBABA trade assurance---A Free Payment Protection Service. | Professional after-sale team solve all kinds of technical problems at any time. | Insuring offer eligible material and standard finished product. |