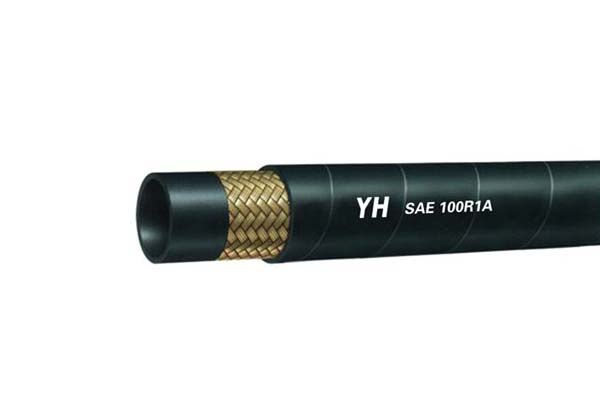 Item SAE 100R1A is popular hydraulic hoses in YH factory. YH factory is a professional rubber hoses manufacturer in Ningbo, China. Dimensions of hoses are designed and produced to international quality standards. SAE 100R1A hose do well in connection in many mining machines such as Caterpillar, Komatsu, Volvo, etc.
Details
---
Part no.: SAE 100R1A
Reinforcement: One braids of high-tensile steel wire.
Temperature Range: -40℃ to +100℃
Cover Compound: Abrasion and weather resistant synthetic rubber.
Application: High pressure hydraulic oil lines used in construction, machine tools and agricultural applications using petroleum or water based hydraulic fluids.
Technical Data Table
---
名义直径

Nominal

Diameter

内径

Inside  diameter mm

钢丝层直径

Reinforcement

Diameter mm

外径

Outside diameter mm

工作压力working pressure MPa
试验压力

Proof pressure

MPa

爆破压力burst pressure

MPa

最小弯曲

Min. bend

Radius

mm

Min
Max
Min
Max
Min
Max
Min
Max
Max
min
5
3/16
4.6
5.4
8.9
10.1
11.9
13.5
21.0
42.0
84.0
90
6.3
1/4
6.2
7.0
10.6
11.7
15.1
16.7
19.2
38.4
76.8
100
8
5/16
7.7
8.5
12.1
13.3
16.7
18.3
17.5
35.0
70.0
115
10
3/8
9.3
10.1
14.5
15.7
19.0
20.6
15.7
31.4
62.8
125
12.5
1/2
12.3
13.5
17.5
19.0
22.2
23.8
14.0
28.0
56.0
180
16
5/8
15.5
16.7
20.6
22.2
25.4
27.0
10.5
21.0
42.0
205
19
3/4
18.6
19.8
24.6
26.2
29.4
31.0
8.7
17.4
34.8
240
25
1
25.0
26.4
32.5
34.1
36.9
39.3
7.0
14.0
28.0
300
31.5
1.1/4
31.4
33.0
39.3
41.7
44.4
47.6
4.3
8.6
17.2
420
38
1.1/2
37.7
39.3
45.6
48.0
50.8
54.0
3.5
7.0
14.0
500
51
2
50.4
52.0
58.7
61.9
65.1
68.3
2.6
5.2
10.3
630