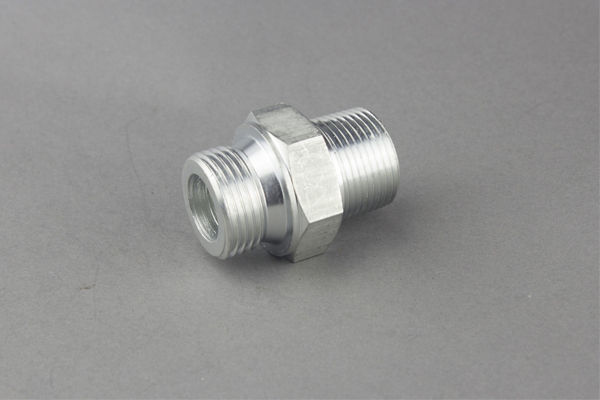 1JO instead of JIC male 74 degrees cone to SAE o-ring boss are daily manufactured in our factory. Straight o-ring boss thread is based on SAE J514 standard. This straight thread connection uses the same threads as the JIC 37°. However the 37°flare has been removed and an o-ring has been added. When mated with a female o-ring boss port the o-ring is trapped in a special tapered counter to affect the seal.
Details
---
Part no.: 1JO(JIC Male 74°Cone to SAE O-ring Boss.
Sizes: from 1/4'' to 2'' are available. Please refer to technical data table.
MOQ: 300pcs for re-produced items. No limit for stock products.
Delivery time: less than 10 days if stock available; less than 45 days for an order if big or small.
Payment term: 30% TT in advance, 70% TT before shipment; Letter of Credit at sight; as invoice said.
Technical Data Table
---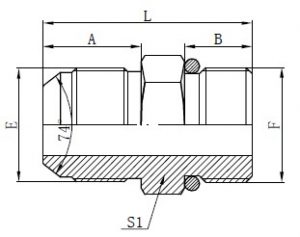 代号

PART NO.

螺纹THREAD
尺寸 DIMENSIONS
 E
 F
A
B
S1
L
1JO-04
U7/16"X20
U7/16"X20
14
10
14
31
1JO-04-05
U7/16"X20
U1/2"X20
14
10
17
30
1JO-04-06
U7/16"X20
U9/16"X18
14
12
17
32
1JO-04-08
U7/16"X20
U3/4"X16
14
12
24
35
1JO-05
U1/2"X20
U1/2"X20
14
10
17
30
1JO-05-04
U1/2"X20
U7/16"X20
14
10
14
30
1JO-05-06
U1/2"X20
U9/16"X18
14
12
17
32
1JO-05-08
U1/2"X20
U3/4"X16
14
12
24
35
1JO-06
U9/16"X18
U9/16"X18
14
12
17
33
1JO-06-04
U9/16"X18
U7/16"X20
14
10
17
31
1JO-06-05
U9/16"X18
U1/2"X20
14
10
17
30
1JO-06-08
U9/16"X18
U3/4"X16
14
12
24
35
1JO-06-10
U9/16"X18
U7/8"X14
14
13.5
27
36
1JO-06-12
U9/16"X18
U1.1/16"X12
14
16
32
39
1JO-08
U3/4"X16
U3/4"X16
16.7
12
24
37
1JO-08-04
U3/4"X16
U7/16"X20
16.7
10
22
35
1JO-08-06
U3/4"X16
U9/16"X18
16.7
12
22
37
1JO-08-10
U3/4"X16
U7/8"X14
16.7
13.5
27
39
1JO-08-12
U3/4"X16
U1.1/16"X12
16.7
16
32
42
1JO-10
U7/8"X14
U7/8"X14
19.5
13.5
27
41.5
1JO-10-08
U7/8"X14
U3/4"X16
19.5
12
24
40
1JO-10-12
U7/8"X14
U1.1/16"X12
19.5
16
32
45
1JO-12
U1.1/16"X12
U1.1/16"X12
22
16
32
47
1JO-12-08
U1.1/16"X12
U3/4"X16
22
12
30
43
1JO-12-10
U1.1/16"X12
U7/8"X14
22
13.5
30
45
1JO-12-16
U1.1/16"X12
U1.5/16"X12
22
17
41
50
1JO-16
U1.5/16"X12
U1.5/16"X12
23
17
41
51
1JO-16-12
U1.5/16"X12
U1.1/16"X12
23
16
36
50
1JO-16-20
U1.5/16"X12
U1.5/8"X12
23
18
50
55
1JO-20
U1.5/8"X12
U1.5/8"X12
24.5
18
50
56
1JO-20-16
U1.5/8"X12
U1.5/16"X12
24.5
17
46
55
1JO-20-24
U1.5/8"X12
U1.7/8"X12
24.5
18.5
55
59
1JO-24
U1.7/8"X12
U1.7/8"X12
27.5
18.5
55
62
1JO-24-20
U1.7/8"X12
U1.5/8"X12
27.5
18
50
59
1JO-24-32
U1.7/8"X12
U2.1/2"X12
27.5
22
70
67.5
1JO-32
U2.1/2"X12
U2.1/2"X12
34
22
70
74