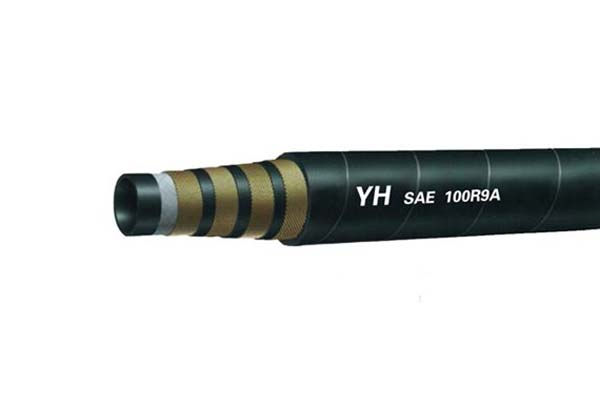 SAE 100R9A is a kind of spiral hydraulic hoses. YH provides a comprehensive line of hydraulic hoses production. Complete sizes are involved in daily manufacture. Our huge range of hydraulic hoses, competitive prices and masses of related products means you can buy all you hydraulic products from one source which can save you time and money in searching and sourcing products.
Details
---
Part no.: SAE 100R9A
Tube: seamless black synthetic rubber; oil resistan
Reinforcement: four layers of alternated, spiraled, high-tensile steel wire over a layer of fabric
Cover: Black synthetic rubber, resistant to abrasion, oil fuel and weathering.
MOQ: 200m each item; customer logo hoses needs total quantity 5000m of one order.
Technical Data Table
---
软管规格

Hose

Size

内径

Inside  diameter mm

钢丝层直径

Reinforcement

Diameter mm

外径

Outside diameter mm

工作压力working pressure MPa
试验压力

Proof pressure

MPa

爆破压力burst pressure

MPa

最小弯曲

Min. bend

Radius

mm

mm
Inch
Min
Max
Min
Max
Min
Max
Max
Min
12.5
1/2
15.5
13.5
19.4
21.0
23.8
25.4
28.0
56.0
112.0
180
19
3/4
18.6
19.8
26.6
28.8
30.6
32.2
21.0
42.0
84.0
240
25
1
25.0
26.4
34.5
36.1
38.5
40.9
21.0
42.0
84.0
300
31.5
1.1/4
31.4
33.0
43.3
45.6
49.2
52.4
17.5
35.0
70.0
420
38
1.1/2
37.7
39.3
49.6
52.0
55.6
58.7
14.0
28.0
56.0
500
51
2
50.4
52.0
63.9
66.2
69.9
73.0
14.0
28.0
56.0
660