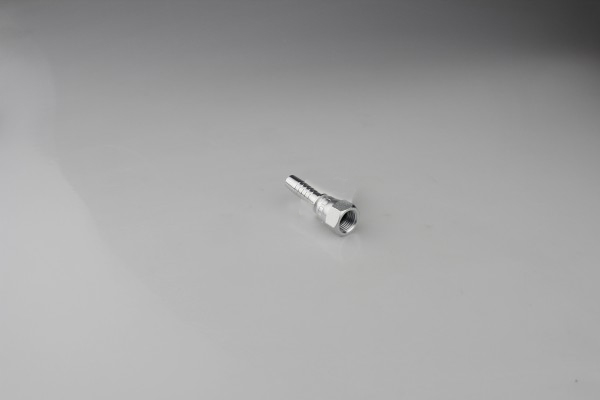 20111 fittings are metric female multi-seal types which are frequently manufactured in YH Hydraulic. 20111 types are widely used in hydraulic field and exported to Russia and Middle East mostly. Our fittings are of good quality and lower prices that can meet customers' demands for higher quality widely. And we can provide OEM service with samples, drawings or requirements presented.
Details
---
Part no.: 20111(Metric Female Multiseal)
Sizes: we are providing a full range of specifications of 20111 fittings which are showed on technical table.
Image: image for 20111 fittings are only for reference. Please visit "Technical Data Table" to make sure 20111 fittings are your requirements.
Our advantage: Factory price; prompt delivery; quality ensured
MOQ: no limit for 20111 types.
Technical Data Table
---
Drawing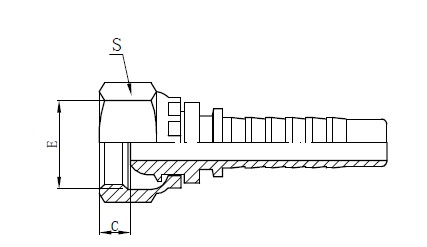 代号

PART NO.

螺纹E

THREAD E

胶管 HOSE BORE
尺  寸 DIMENSIONS
公称内径 DN
标 号DASH
C
S
20111-12-02
M12X1.25
4
02
5
17
20111-14-04
M14X1.5
6
04
5
19
20111-16-05
M16X1.5
8
05
6
22
20111-18-06
M18X1.5
10
06
5.5
24
20111-22-08
M22X1.5
12
08
5
27
20111-27-10
M27X1.5
16
10
4.5
32
20111-30-12
M30X1.5
20
12
5.5
36
20111-36-14
M36X2
22
14
5.5
41
20111-39-16
M39X2
25
16
5.5
46
20111-45-20
M45X2
32
20
6.5
55
20111-52-24
M52X2
40
24
5.5
60
PART NO.
THREAD E
HOSE BORE
TUBE O.D.
DIMENSIONS
DN
DASH
A
C
S2
20411C-12-04
M12X1.5
6
4
6
19.5
3.5
17
20411C-14-04
M14X1.5
6
4
8
20.5
3.5
19
20411C-16-04
M16X1.5
6
4
10
21
3.5
22
20411C-16-05
M16X1.5
8
5
10
21
3.5
22
20411C-16-06
M16X1.5
10
6
10
21
3.5
22
20411C-18-06
M18X1.5
10
6
12
22.5
3
24
20411C-22-08
M22X1.5
12
8
15
24
4.5
27
20411C-30-12
M30X2
20
12
22
27
7
36
20411C-30-14
M30X2
22
14
22
27
7
36
20411C-36-16
M36X2
25
16
28
29
6.5
41
20411C-22-06T
M22X1.5
10
6
15
23.5
4.5
27
20411C-26-10T
M26X1.5
16
10
18
27
4
32
20411C-30-10T
M30X2
16
10
22
26.5
7
36
20411C-45-20T
M45X2
32
20
35
33
7
55
20411C-52-24T
M52X2
40
24
42
34
8
60
1. Swaged Metric Fittings

Mertic Flat Seal Fittings
Metric Multiseal Fittings
Metric 60°Cone Seal Fittings
Metric 74°Cone Seal Fittings
Metric 24°Cone O-RING Seal L..T Fittings
Metric 24°Cone O-RING Seal H.T.Fittings
Metric Standpipe Straight Fittings
JIS Metric 60°Cone Seal Fitting
2. Swaged British Fittings
BSP O-RING Seal Fittings
BSP Flat Seal Fittings
BSP Multiseal Fittings
BSP 60°Cone Seal Fittings
BSPT Fittings
JIS BSP 60°Cone Seal Fittings
3. Swaged American Fittings
SAE O-RING Seal Fittings
ORFS Flat Seal Fittings
NPSM 60°Cone Seal Fittings
JIC 74°Cone Seal Fittings

NPT Fittings SAE Flange L.T. Fittiings

SAE Flange H.T.Fittings
4. Staplelok Fittings
Banjo Double connection
interlock Hose Fittings
5. Ferrule
FERRULE for SAE100R1AT/ EN 853 1SN HOSE
FERRULE for SAE100R1A EN 853 1ST HOSE
FERRULE for SAE100R2AT/DIN20022 2SN HOSE
FERRULE for SAE100R2A/EN 853 2SN HOSE
FERRULE for SAE100R1AT-R2AT,EN853 1SN-2SN and EN 857 2SC
FERRULE for 4SP,4SH/10-16,R12-06-16 HOSE
FERRULE for 4SH,R12/32 HOSE
6. Metric Adapters
Metric Thread O-RING Face Seal Adapters
Metric Thread Bite Type Tube Adapters
JIS Metric Thread 60°Cone Adapters
Metric Thread 74°Cone Flared Tube Adapters
7. British Adapters
BSP Thread 60°Cone Adapters
JIS BSP Thread 60°Cone Adapters
BSPT Thread Adapters
8. American Adapters
ORFS Adapters JIC 74°Cone Flared Tube Adapters
NPT Thread Adapters
Quick Details
---
Type: Fittings, Fittings
Model Number: 20411C
Brand Name: YH
Place of Origin: Zhejiang, China (Mainland),
Model No.: 20411C
Certification:ISO9001:2008
Material:Carbon Steel
Color: Yellow/Silver
Finishing: Zinc Plated
Size:Customized
Customized: Accepted
---