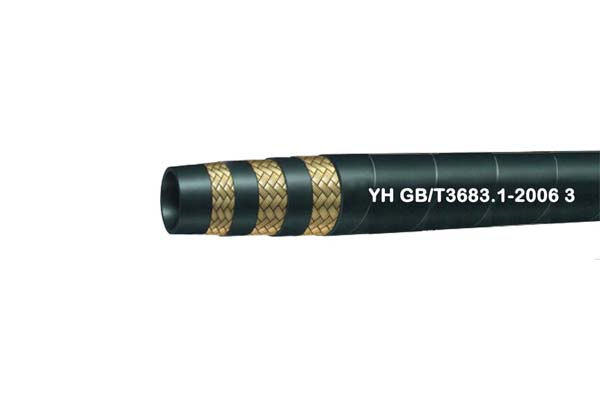 Rubber hose GB/T3683.1-2006 3 is type of three steel wire braided hydraulic hose. Complete sizes are produced in YH Hydraulic from 6-51. Working pressure showed in technical data meet popular international standards. YH promise customers best quality hoses and reasonable prices.
Details
---
Part no.: GB/T3683.1-2006 3
Brand: YH(customers markings are available)
Surface: wrapped surface
Delivery time: with 7 days after receiving the deposit(Standard items)
Stock: many items available.
Technical Data Table
---
型号

TYPE

公称内径

I.D.

参考外径

O.D.

钢丝层外径

Reinforcement diameter

工作压力

W.P.

试验压力

P.P.

最小爆破压力

B.P.

最小弯曲半径

Min. bend radius

mm
mm
mm
MPa
MPa
MPa
mm
6-3
6.3
19
15.0±0.5
45
90
180
100
8-3
8
21
17.0±0.5
40
80
160
115
10-3
10
23
19.0±0.5
35
70
140
128
13-3
12.5
26
22.9±0.6
30
60
120
180
16-3
16
29
26.0±0.6
23
46
92
205
9-3
19
33
28.8±0.6
18
36
72
240
22-3
22
36
32.0±0.8
16
32
64
280
25-3
25
40
35.0±0.8
16
32
64
300
32-3
31.5
47
42.5±0.8
12
24
48
420
38-3
38
53
48.5±0.8
10
20
40
500
51-3
51
66
61.5±0.8
9
18
36
630