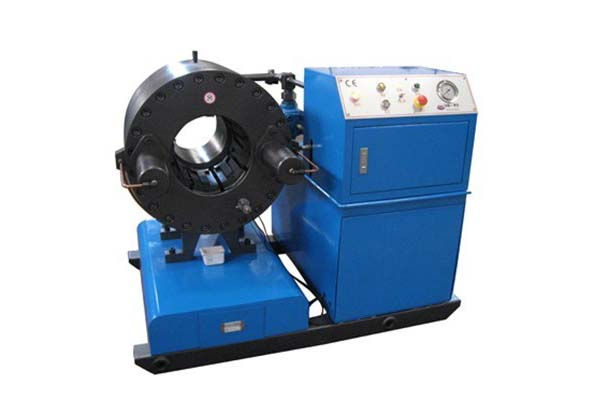 YHHCM-91F hydraulic hose crimping machine is special for sizes from 1/8'' to 6''. This machine is one of popular selling machines in YH Hydraulic because of its low center of gravity and easy operation. If you are looking for similar machines, please feel free to contact us for detailed information. YH Hydraulic will be your best choice of hose crimper.
Details
---
Part no.: YHHCM-91F
Low center of gravity, easy for operation.
Extra-large opening ,extra-huge crimping force.
Hydraulic shift crimping, quickly and save electricity.
Technical Data Table
| | |
| --- | --- |
| Crimp range | 1/8" ~6"  6SP |
| Standard voltage & motor | 380/5.5kw |
| Opening without dies | 280mm |
| Opening | ±38mm |
| Swaging force | 1966T |
| Optional voltage & motor | as customer's requirement |
| No. of standard die set | 8 sets |
| L*W*H | 1250×830×940 mm3 |
Advantages
---
1.Adopting componets imported with original packing in pneumatic system and control system of crimping amout.
2.It supports installing and uninstalling dies as a whole at once with the quick change tool.
3.The all the dies array in the dense way and the large opening ,it is suitable for crimp the non-stand fittings and elbow fittings.
4. Equipped with protection element which protect dies against the possiblity of failure.
Product Attention
1.motor start:pay attention to the direction of rotation of the motor and pump rotation direction or arrow direction.
2.before the operation:check the hydraulic oil tank and oil level matching.rection or arrow direction.
3.normal operation:the first 30 minutes of running after normal use.
4.hydraulic oil:no any regulation of oil spill valve, the hightest must not exceed the rated pressure, pressure hazard! Danger of injury.
5.system failure:system failure,don not blindly processing,in accordance with the "first easy hind difficult,after the first" sequence analysis or find professional repair personnel to solve problems.
Safety tipes of hydraulic hose crimper
1.Read operation specifications over and over again knowing to control machinery principle last the day after tomorrow going to post.
2.Observe the operation norm strictly being on the alert paying attention to safety.
3.The periodic inspection maintenance adds enough wetting oil.